TCHFH Lending, Inc.
Twin Cities Habitat for Humanity's wholly-owned nonprofit mortgage company, TCHFH Lending, Inc. offers the TruePath Mortgage product to low-and-moderate income households across the seven-county metro. TruePath Mortgage can be used on a Habitat-built home or a home you find on the open market. Own a home you love with a mortgage you can afford. Together, we are creating more opportunities for successful homeownership.
Discover what TruePath Mortgage is all about
The Mortgage Product and Process
TruePath Mortgage Product
5.25% fixed interest rate, 5.3059% APR

30-year term

Affordable monthly housing payment set at no more than 30% of gross income

No mortgage insurance

Maximum mortgage of 96.5% of home's value – down payment and affordability assistance available depending on income qualification and availability.

Borrower contribution of $3,000 towards closings costs (not including owner's title insurance if the homebuyer chooses to purchase)
Application Requirements
Complete Twin Cities Habitat for Humanity's Homeownership Program

Meet our income eligibility guidelines

Be a first-time Homebuyer (haven't owned property in the past three years)

Currently live in the 7-county metro area

Purchase a primary residence
Underwriting Requirements for Approval
Preferred credit score of 620 – Credit scores between 580-620 or invisible/no credit acceptable with alternative credit documentation

$6,300 in savings

Total monthly debt payments no more than 13% of gross monthly income

No outstanding liens or judgments

Six months at current job with two years of continuous employment history for full-time jobs. Two years at current position for part-time and self-employed workers.

Minimum of two years since bankruptcy, with 24 months of re-established credit

Minimum of three years since foreclosure or short sale

Maximum of $1,000 in outstanding collections ($3,000 maximum if medical collections)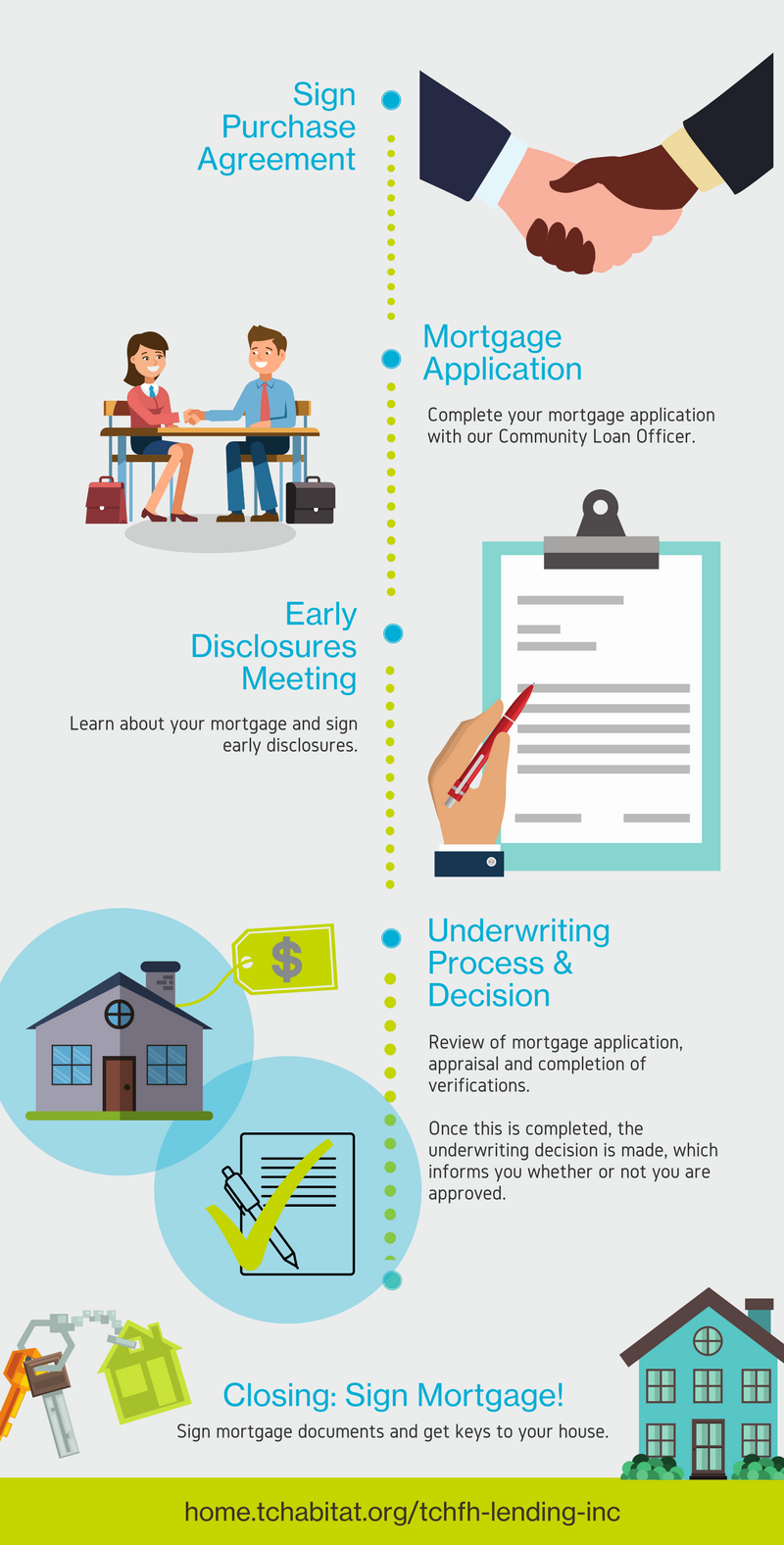 Other Helpful Links & Resources
View Habitat Homes For Sale
View our current home listings. These listings are updated each month to show newly-added properties and homes that have sold.
We can help you with the mortgage process
Each family that applies for a mortgage with TCHFH Lending, Inc. must meet application and underwriting requirements for approval. If you don't meet these requirements today, that's okay! Twin Cities Habitat's financial advisors can help you get there.
Questions about our mortgage product?
Estimated First Mortgage
$240,000
Fixed Interest Rate
5.25%
APR (Annual Percentage Rate)
5.3059%
Monthly Principal and Interest Payment
*Monthly payment estimates quoted reflect the principal and interest portion of the payment and do not include homeowner's insurance or property taxes, which are also required to be paid.
$1,325.29
Term
30 Years
Borrower Down Payment
$0.00
Borrower-Paid Closing Costs
*Borrower's contribution to closing costs does not include the owner's title insurance policy if the homebuyer chooses to purchase.
$3,000
Please note that our rates and terms can change at any time.